Learning how to apply for OPT (Optional Practical Training) could be challenging, especially while trying to job search and satisfy graduation requirements during your final semester.
Unlike your American classmates, you are faced with three options upon graduation as an F1 visa international student.
You could:
Pursue another course of study at the same degree level or a higher degree level
Apply for Post-Completion OPT
Change your status to another immigration class or
Depart the US for your home country.
If departing the US is not an option for you, then you want to ensure you are familiar with the process of applying for your OPT months before graduating. Fortunately, as an F-1 student, you are not required to have a job offer to apply for OPT. So applying as early as possible is strongly recommended.
Grab Our Free OPT Application Guide
The Ultimate Checklist For Your F1-Post Completion OPT Application!
In this blog post, you will learn 5 simple and stress-free steps to follow when applying for your Post-Completion OPT.
For a handy reference, you can download our FREE PDF checklist that walks you through the 5 steps discussed in this article.
By using this FREE checklist, you will be ensuring that you put together a comprehensive OPT application before you file your application with The United States Citizenship and Immigration Services (USCIS).
5 Steps to Apply for OPT in 2023
Here is how to apply for your OPT with the United States Citizenship and Immigration Services (USCIS) in 5 simple steps.
Step 1: Gather Supporting Documents
Before applying for your OPT, you will need to have the following:
2 colored passport photographs

These photos must be taken according to specific requirements as specified here
These photos should not be older than 6 months at the time of submitting your application

A copy of your passport biographical page

A passport that will be valid for at least 6 months after your application is submitted to USCIS is strongly recommended

A copy of your most recent F1 visa

An expired F1 visa is acceptable

A copy of your most recent I-94 record

You can obtain your electronic I-94 record from here

Copies of any previously issued Employment Authorization Document Card (Front & Back)
Copies of any Form I-20 authorized for Curricular Practical Training (CPT) or Optional Practical Training (OPT)
Step 2: Selecting an Employment Start Date
The result of a successful OPT application is the receipt of an Employment Authorization Document (EAD). This is a plastic card – the same size as a US state driver's license – with a maximum validity period of 12 months.
When applying for your OPT you will be requesting a start date which will be printed on this card. Your requested employment start date must fall within 60 days after your program end date. Essentially, you are choosing a date in the future to start your OPT employment countdown clock.
How to Choose a Start Date for Your OPT
F-1 students applying for post-completion Optional Practical Training usually fall into two camps: (1) Students who have accepted job offers before applying for OPT (2) Students with no job offers at the time of applying for OPT.
For the first camp of students, selecting an employment start date should be straightforward. You can simply choose any date within 60 days post-graduation, as long as your employer is flexible with that date.
In many cases, your requested OPT start date would coincide with your preferred first day of work with your employer. Assuming you receive your EAD card on time.
For students in the second camp, selecting an employment start date is a debatable topic. The thought of starting the OPT countdown clock without a job offer scares a lot of them into delaying their OPT application.
While waiting to receive a job offer before you select your start date and apply for your OPT might seem logical, it hurts more than it helps. This is because USCIS processing times for your EAD could take as long as 6 months. Most employers won't be willing to wait that long and would rescind your offer of employment if the position requires an immediate start date.
For students in this second camp, a sweet spot for your employment start date would be between 30 – 45 days post-graduation. In the event that you receive a job offer pre-graduation, having a start date within this sweet spot provides ample time to prepare for the new life ahead. Most employers understand this and will be flexible if your first day of work falls within this range.
On the flip side, if you have not received a job offer at the time of graduation, this sweet spot provides more time for you to continue your job search without worrying about accruing unemployment days just yet.
While you may be unable to predict when you get a job offer, you can always be prepared to start work – by having a current EAD card in your possession – whenever the opportunity presents itself.
You can easily find the OPT start date that works best for you by using our free OPT calculator tool!
Step 3: Preparing I-765 Application Forms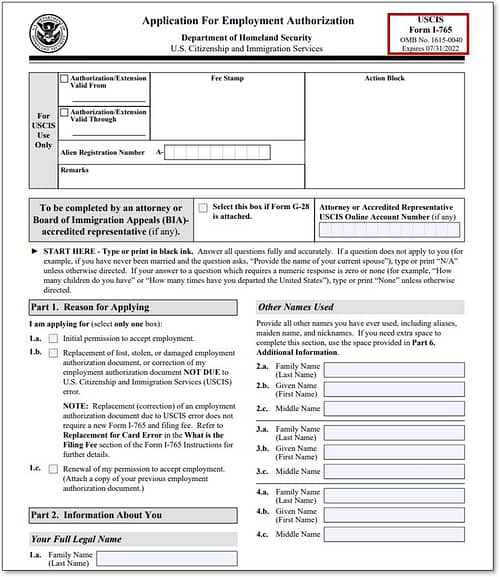 The Form I-765, known as the Application for Employment Authorization, is a PDF document that can be downloaded from the USCIS website. This form contains an expiration date at the top right-hand corner of the first page. You want to ensure this date is valid at the time of submitting your application to USCIS.
You can either fill out the field in this PDF document electronically or by hand using black ink. If you must fill it out by hand, ensure that your entries are contained within the boxes.
When you've completed the form – either electronically or in print – you must sign the form by hand using black ink.
On the USCIS webpage, you will also download the Form G-1145. On this form, you will provide your email address and phone number to receive an electronic notification from USCIS when your application is received.
Keep in mind that USCIS rarely contacts applicants over the phone. So be cautious of any phone calls you receive from someone claiming to b a USCSI representative.
Step 4: Obtaining Approval from Your Designated School Official
In order to apply for your F-1 Post Completion OPT, you will need to obtain an updated Form I-20 from your university's international office. This OPT Form I-20 is the most crucial document in your OPT application.
The process of getting this OPT Form I-20 might vary slightly across US universities. But typically you will need to have your OPT application reviewed by a staff of your university's international office called a Designated School Official (DSO). The documents reviewed in this step include:
All the supporting documents from Step #1
An OPT Request or Approval form containing the start date selected in Step #2
Your completed paper Form I-765 from Step #3
Unofficial transcript from your university's registrar
Graduation letter from your department (optional)
OPT approval fee paid to your school
Upon the successful review of your documents, your DSO will provide you with an updated Form I-20, endorsed on page 2 for Post Completion OPT with the start date you selected in Step #2.
Ensure that you review your new Form I-20 carefully before signing it on page 1.
Step 5a: Compiling and Mailing Application Packet to USCIS (Optional)
USCIS must receive your OPT application packet within 30 days from your OPT Form I-20 issue date. Otherwise, USCIS could deny your OPT application.
Compiling Your Application Packet
Once your OPT Form I-20 is issued, you should quickly compile the following documents for mailing:
All the supporting documents from Step #1
Completed and signed Form I-765 from Step #3
A copy of your signed OPT Form I-20 from Step #4
Payment for the I-765 filing fee (check or money order only)

Confirm the current USCIS filing fee for F-1 OPT here

Completed Form G-1145

This should be the first page of your application packet
Mailing Your Application Packet
Where you send the F1-OPT application is always subjected to change by USCIS. The current USCIS facility processing the F1-OPT-related applications is the Chicago Lockbox facility. Visit this USCIS webpage to determine the USCIS lockbox facility processing I-765 applications from foreign students applying for OPT.
Mail your application packet to the appropriate USCIS facility as described, requesting tracking information from your courier service provider.
Step 5b: Compiling and Submitting Your OPT Application Electronically (Optional)
In April 2021, USCIS launched an electronic filing option for the OPT. This allows F1 visa students seeking pre-completion OPT, post-completion OPT, and the 24-month STEM OPT extension to submit their applications to USCIS electronically.
This option of filing the OPT online presents the following advantages over paper filing:
Your OPT application can be received instantaneously compared to paper filing that could take several days to be delivered
You can make a payment for the OPT filing fee using a debit or credit card or an electronic fund transfer from your bank account. Which is more flexible than paying with a money order or a personal check
Common mistakes such as missing signatures on the paper Form I-765 and incorrect filing fee payments are completely avoided with electronic filing
You can watch the video below to learn how to file your post-completion OPT online step by step.
After You Apply for OPT
Once your application is received, either in the mail or electronically, USCIS will provide a receipt notice called the Form I-797C, Notice of Action.
If you filed your OPT application online, you will receive an electronic copy of the Form I-797C almost immediately. USCIS will also send an original copy of the receipt notice to the mailing address you provided.
If you mailed your OPT application, you can expect to receive your Form I-797C within 4 weeks from the delivery date of your courier service provider.
This notice contains a receipt number and a receipt date that acknowledges when USCIS received your application.
OPT applications filed by paper usually show a receipt date later than the date of delivery from your courier service provider.
The receipt number could be used to track the status of your case on the USCIS Case Status webpage. However, using this website may not be necessary if you filed your OPT application online, as status updates are sent to your account automatically.
For paper-filed OPT applications, you can receive automatic updates on your case by creating a USCIS online account as described in the video below.
To learn more about what happens after your OPT application is submitted, you can read our blog post on what to expect after applying for OPT.
Whether you intend to file your OPT application online or in the mail, it is important that you do so early. With longer USCIS processing times, it could take as long as 5 months for your OPT application to be adjudicated.
I truly hope you found this information helpful. I wish you the very best of luck on your OPT career search endeavors!
Grab Our Free OPT Application Guide
The Ultimate Checklist For Your F1-Post Completion OPT Application!
DISCLAIMER: The content in this blog and on this website is presented as general information only and is NOT legal advice. I am not a licensed attorney, and so the information presented in this blog and anywhere else on this website should not be construed to be formal legal advice. If you need personalized legal advice, you may contact a licensed attorney.